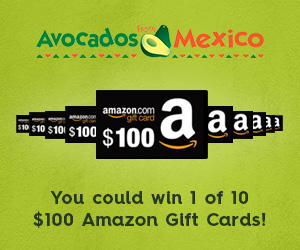 Enter to win a $100 Amazon gift card from Avocados from Mexico.  10 winners!  Good luck!
Team Avocados from Mexico is launching a special promotion that is focused on a myriad of themes, the first, being Hispanic Heritage Month.
In celebration, now through October 31, fans who join Team AFM will be entered to win 1 of 10 $100 Amazon gift cards while learning about Hispanic Heritage and the avocado. The story of Avocados From Mexico (AFM) is as fascinating as it is incredible.
From its small start in 1997 through 2007, the Mexican Hass avocado industry has experienced rapid expansion in the U.S. As of 2014, AFM represented more than 60 percent of the U.S. market share.
Ends December 31,  2016